Today I'd like to highlight a few of my favorite Digital Collections from across the web. These are various odds and ends that are in no way meant to be fully representative of the incredible breadth of content out there. Rather, these collections represent my own pet interests, and I would encourage anyone reading this to seek out digital collections that speak to them, too.
First I'd like to point you towards (surprise!)
our very own Dartmouth Digital Collections
. Our fantastic library staff has done wonderful work creating a diverse and fascinating collection of materials for digital browsing. My personal favorite picks are the ever-expanding
Photo Files collection
, and the wonderfully quirky 19th century comic
The Adventures of Obadiah Oldbuck
(you can read more about Obadiah Oldbuck in
this post
I wrote way back in 2012).
The Dartmouth Boxing Club, donated by a Dartmouth Alumni class of 1871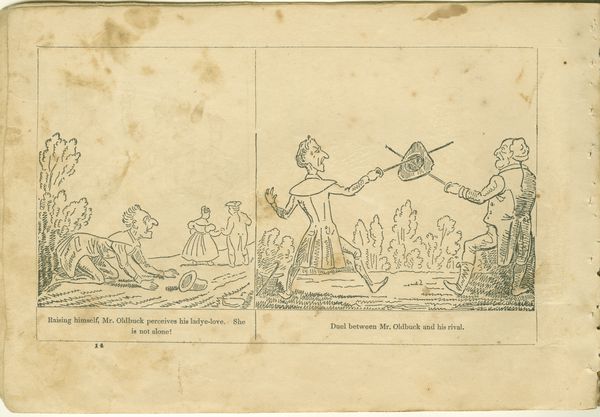 Obadiah Oldbuck: "Raising himself, Mr. Oldbuck perceives his ladye-love. She is not alone! Duel between Mr. Oldbuck and his rival.
The next collection I'd like to direct you to is the
New York Public Library's newly launched collection of historic maps
. These are fascinating, and a wonderful peek into the art of cartography as it was practiced throughout American history. Of particular interest to me was the packaging on many of these real-estate maps, hyping upcoming auctions and the promise of land ownership.
Pages from a 1914 land auctioneering pamphlet
Meanwhile, across the country, a collection I had the privilege of viewing as an undergraduate is my own Alma Mater
Reed College's collection of artist books
. I am far from an expert in this subject and would defer to our very own wonderful
Book Arts Program
for more information, but even as a layman I can enjoy these unique and clever book designs.
Tobacco Project: Red Book by Xu Bing
The amount of materials available on the web is expanding daily, and while it may seem daunting to sort through it, I've found the effort is well-rewarded. If you have a favorite collection, let us know in the comments! Happy browsing!